LinkedIn is the top social platform for B2B professionals to build and expand their networks. But did you know it's also one of the best tools for marketing your company and its team members? A good LinkedIn marketing strategy can make a serious impact on your lead generation efforts, content marketing reach, and brand reputation.
Few companies actually leverage LinkedIn to its full marketing potential.
With 774+ million members and 55 million companies active on the platform, LinkedIn has the power to establish your brand and help you build better connections with important stakeholder groups including current and potential customers, partners, and employees.
Ready to get started? Read on to learn how you can launch your LinkedIn marketing strategy right away!
Quick Takeaways
Optimized profile pages and consistent active engagement are keys to LinkedIn visibility.
Employees can be powerful brand advocates who exponentially grow your network.
Posting your web content on LinkedIn builds brand reputation and content shareability.
LinkedIn offers a number of free tools companies can use to enhance their LinkedIn marketing strategy.
How to Launch Your LinkedIn Marketing Strategy
Optimize Your Page for Lead Generation
Your LinkedIn page should not be the equivalent of your resume, whether you're a company or an individual. If you're looking at your page and its main feature is a laundry list of past accomplishments, you've got some work to do.
Let's talk first about some of the nuts-and-bolts parts of getting your page optimized for lead generation:
Make your profile photo professional (headshot-style is ideal) and brand your background image. For company pages, use your logo in your profile page.
Use keywords in your description text so you appear in searches your customers are likely to make.
Include prominent calls to action (CTAs) on your page so your prospective customers know what to do next after they find you.
Once you've got everything in place, keep your page active! Share your web content, engage with your followers and industry partners, and tag your customers and other stakeholders in stories or mentions about your work with them.
Your LinkedIn page is not a static document — whenever a visitor arrives on your page, you want them to see a snapshot of your company's network, activity, and thought leadership.
Share Your Content
So you've got a content marketing strategy — great! Are you sharing your content on LinkedIn, too? If not, you're missing a huge opportunity to expand the reach of your content.
Any content you post on the web should also be shared on your LinkedIn page. You can use it to provide thought leadership commentary, drive people to your website, and build a content library (your activity history will show a log of everything you've posted) that your page visitors can explore.
It also increases the shareability and visibility of your content. When others see your content on LinkedIn and then share it on their pages, you're building social proof and brand reputation.
Why is this important? Because 92% of consumers trust brands that are recommended by their peers. That means when someone else shares your content, it's likely to make an even bigger impact than when you share it yourself.
Make Your Employees Brand Advocates
Speaking of shareability, getting your employees on board to share your content can have exponential effects on your brand visibility. Brand advocacy builds social proof and extends your reach into the networks of your advocates.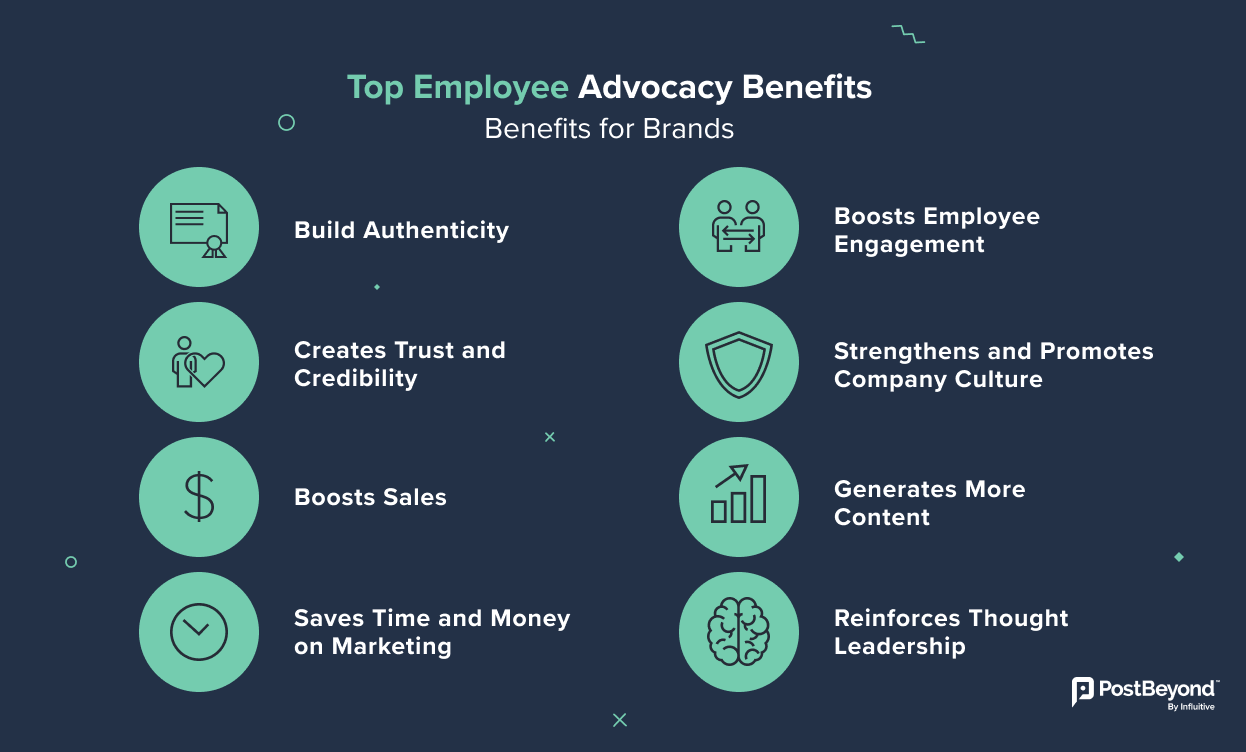 Acting as brand advocates benefits your employees, too. When they share your content, provide additional commentary, and make their connection to your company more prominent, it also boosts their professional reputation.
Share Visual Content
LinkedIn content needs to be professional, but that doesn't mean it needs to be boring!
Visual content in general is more effective than text content, and in the B2B world, research shows that 95% of buyers prefer it. On LinkedIn, content posted with an image has a 98% higher comment rate.
Including visual content to complement your text copy makes your content more memorable and optimizes it for engagement and sharing.
Visual content you can use on linked in:
Video (pre-recorded or live) – the form of visual content most preferred by consumers
Infographics – an effective way to share data in an easily digestible format
Photos of events, projects, or activities – gives your audience an authentic behind-the-scenes look at your company
Stock images – can be used to accompany topical posts
Create LinkedIn Stories
LinkedIn Stories are just like the "story" features on other social media platforms. It gives users the ability to post real-time content and, for companies, an outlet for brand storytelling.
If you're thinking the stories are too casual for LinkedIn, you're not alone. It was a common sentiment when LinkedIn launched the feature in 2020.
But actually, there are a lot of great, impactful ways brands can professionally leverage the stories feature in their LinkedIn marketing strategy, including:
Sharing quick tips, statistics, and information bites relevant to your audience
Giving a behind-the-scenes look at events and projects
Interacting with your audience live by hosting Q&A sessions
Creating buzz around product launches or upcoming events
Analyze the Competition
In order to differentiate your brand from the competition, you've got to know them first.
LinkedIn offers a really helpful "companies to track" feature, which provides a list of companies similar to yours and important data like their number of followers, new subscribers, post activity, and engagement metrics (all as they compare to your company). You can use this info to better understand how you stack up to the competition.
It's a good idea to closely follow your best performing competitors, too, to stay informed about what's working for them, what you can replicate, and how you can differentiate.
Leverage LinkedIn Tools
Even companies who leverage LinkedIn as part of their marketing strategy often don't take advantage of all the available LinkedIn tools. Here are a few of the best ones to consider using:
LinkedIn Sales Navigator – connects companies with high-potential leads using an algorithm to make the best matches.
LinkedIn Pulse – allows professionals and companies to publish content directly to the LinkedIn platform and aggregates it so it reaches its target audience.
LinkedIn Groups – connects people and companies in common industries and interest areas.
What's Next?
The foundation of your LinkedIn marketing strategy will be a library of quality content you can share.
Ready to start building yours? Contact Marketing Insider Group today or check out our Content Builder Services to learn how we can help!