Purpose-driven brands such as Google, 3M and Chobani are all in on a little marketing secret. The best way to make money is to not prioritize profits. This is because the only way to become successful – and to sustain that success – is to have something that is unaffected by external forces as the foundation of your business. You need a purpose.
Why the purpose-driven business model has worked so well for some of the world's largest companies is because core values will still be there when the market shifts or customer preferences change. Brand purpose is the pillar that stands tall, unmovable, as the world turns. When you use this foundation as the unifying force of your marketing strategy, you are tapping into an infinite source of inspiration to energize your campaigns – instead of chasing the carrot, which is what happens when business decisions and bottom line needs are what motivate your marketing decisions.
Feel like that frustrated horse, never quite getting a bite of that out-of-reach carrot? Take a lesson from the playbooks of these purpose-driven brands.
Your Purpose Has to Make a Positive Difference
Not only are consumers starting to avoid brands that don't align with their values, but there is an increasing expectation that businesses should be proactively making a positive impact. 88 percent of consumers want brands to make the world a better place.
One of the pillar companies that set the bar for ongoing social involvement is Starbucks. From striving towards 100 percent ethically sourced coffee and participating in community service, to launching a climate change strategy – way before other brands were moving in this direction – Starbucks has always had a reputation for pushing social and environmental issues.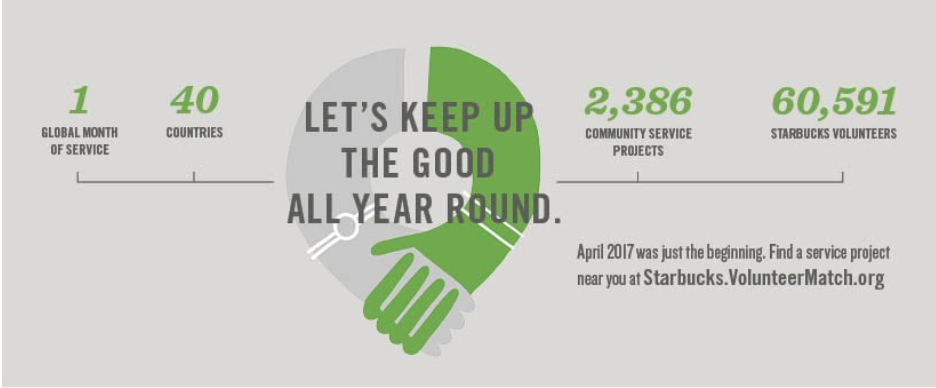 Starbucks started out as one Seattle coffee shop in the Pike Place Market. From 1982 to 2015, the company opened more than 22.5K stores worldwide under the leadership of Howard Shultz. Shultz joined the company as the director of retail operations and marketing and just recently stepped down from his role as CEO at the end of 2016.
Shultz was known for sparking the brand's core visions and for keeping those flames alive for decades. "What is the role and responsibility of a public company … and how can we catalyze hope in a time when we need more optimism, compassion and leadership?" he questioned.
Answer this riddle for your brand and you have the eternal heart of your marketing strategy.
Starbucks hasn't always pulled off purpose with flying colors, however, such as their epic 2015 #racetogether marketing failure. And here's where you can learn the most essential advice from this purpose-driven brand – make sure your company's organizational culture matches your brand's messaging. Starbucks was criticized for launching a marketing campaign to promote race relations when their own leadership team could barely be considered as diverse.
Honesty Inspires Sales – If You're an Honest Brand
Is there anything that screams purpose over profit like Patagonia's anti-growth strategy? Patagonia has been a strong-willed socially responsible brand since the beginning. When the business opened its first store in 1988 and learned that formaldehyde from their cotton clothing stored in the basement was giving their employees headaches, they commissioned their own study on conventional cotton. After what they learned from their research, they went completely organic.
Once they started paying attention, they never stopped. "Living the examined life," noted founder Yvon Chouinard, "is a pain in the …" They've been measuring their environmental impact for years. They offer more employee benefits than Santa Claus. That 1 percent across the board sales donation isn't viewed as philanthropy, not by this brand. It's seen as a meager attempt to balance out their own negative environmental impact.
By 2011, the brand's existential crisis reached a new level. Patagonia started advertising to motivate people to not buy their products, pointing out the environmental impact of each product's lifecycle.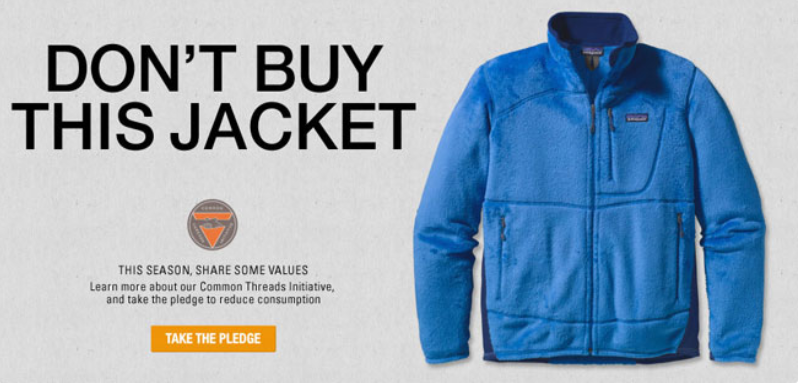 They launched their infamous Black Friday ad "Don't Buy This Jacket." Over the next couple years, they continued this negative consumption cycle messaging in their email marketing, social media channels and their website. Sales jumped by 27 percent. The Black Friday anti-buy add alone led to a 30 percent spike in sales.
Patagonia's marketing doesn't just push for transparency. This is brutal honesty. Not something you see every day, which is why it grabbed so much attention.
The reason a bold marketing initiative like this worked at all is because Patagonia had the substance to back it up. Imagine if one of the many clothing retailers who have been accused of worker abuse in their overseas textile factories tried something similar – honest marketing only works if your core values are lived and breathed.
Your Purpose Should Relate to Your Customers
Heineken's Moderate Drinkers Wanted marketing campaign is helping to transform the way society views social drinking. The health effects of binge drinking, the dangers of driving under the influence and the destruction of alcohol addiction – society has some very real problems to tackle when it comes to alcohol consumption. Yep, you guessed it: we need a hero.
The beer maker has stepped up the pressure on consumers as well as the industry as a whole to promote responsible drinking through the success of their drinking in moderation marketing messaging.
Heineken, like other purpose-driven brands, has much more than a one-shot positive impact campaign. From the brand's Supplier Code, which demands humane working conditions and environmentally responsible agriculture, to the sustainability initiatives to save water and boost efficiency, driving positive change is part of who the brand is.
Being It to Believe It
These purpose-driven brands each have their own causes to champion and progressive struggles to overcome. But, there is one essential takeaway they all offer. If you want to convince consumers that there is meaning behind your brand, purpose has to extend far beyond the marketing team. It has to permeate the entire organizational culture. This isn't about listing well-intentioned brand values or sponsoring a local little league team. This is about continually searching for ways that your brand can enact positive change.
And, it's about engaging your customers. Because, if your purpose really matters, you'll need their help to make a difference.
Image Credit: Ross Findon on Unsplash