Location-based social media can help your business target your local audiences and acquire new customers. Todays social media-reliant consumers expect businesses to meet them where they are. Learn how to engage with and expand upon your local customers with the tips below:
Quick Takeaways:
Location-based social media can help businesses target local audiences
Optimizing location services can lead to the acquisition of new customers, a boost in search visibility, and an increase in rankings
Social media is a powerful tool that connects businesses with the communities and people that support it
Web searches continue to increase in sophistication, with results often mirroring exactly the information a customer needs. If someone wants to find a great restaurant nearby, search algorithms can immediately determine that person's approximate location and deliver results to match.
Even social media searches have gradually moved toward location-based results. A search for restaurants on Facebook, for instance, brings a combination of pages for nearby restaurants and check-ins at local restaurants by friends. In a world where location is linked to all media formats, it's becoming more and more crucial for businesses to understand and utilize the insights that come from location functions.
Whether your business is online or brick-and-mortar, it's important to pay attention to the location of your website and social media visitors. By knowing more about the geography behind your followers, you can target your marketing appropriately.
With most consumers using location services for convenience, social media can be a powerful tool. It narrows results and ensures they are only seeing the information relevant to them, a process that results in a better, more efficient customer experience overall. Here are a few ways to gather regional information on your social media likes, retweets, and follows and put that information to use in your business.
Gather and Analyze Information
With so many tech tools now available, you can easily monitor social media likes by location. Compile as much information and data as possible on your audience to better understand the groups you are trying to reach. Using a potent dashboard for social media can help you keep tabs on all your social media analytics and data as well as help you with sending out reports and monitoring the entire campaign in one place. You can study this information over time to determine whether you're engaging the customers you need to reach, whether you're focusing on customers in a specific town, or trying to expand your geographic reach.
Set a Presence
One of the most important things your business can do is connect a location to any social media profile you create, whether it's on Facebook, Twitter, Instagram, or another popular platform. Make sure to specify your location in your account settings and mention it in your bio to ensure that when customers search for businesses in your area, your social media profiles will show up.
Similarly, you could consider targeting your advertising by focusing ads on a specific geographic location. This targets more concentrated groups of people that are most likely to become customers. Associating your brand with the location of your desired/predicted customer audience will strengthen the connection between your business and that place.
Here is a chart of the current most popular social media platforms to consider for your business and some info about their use: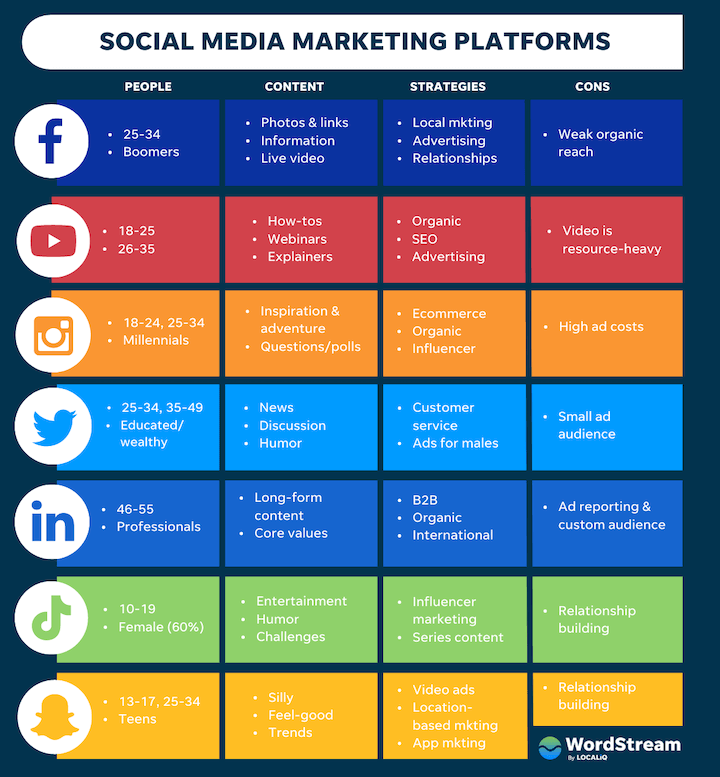 Geotag Your Posts
You can further strengthen your location visibility by making sure to include a location on each of your posts. If you have a brick-and-mortar shop, encourage visitors to check in, which will further tag the location of your business on your page. You can do this by merely posting a reminder or by incentivizing check-ins by offering a discount or entry into a contest.
You could even set up a photo opportunity at your location, you'll likely find many customers snap a picture while visiting, tagging the location when they post it on their various sites. In addition to further establishing your location, it will help spread the word about your business to customers who may not already know about you.
Encourage Reviews
Local businesses can benefit from customer reviews on sites like Yelp. First you'll need to claim your business on the site if you haven't already, which will give you the ability to respond to any reviews posted there. You can then begin encouraging reviews by adding badges to your website and requesting signage to display at any locations you have. Ask your most loyal customers to leave reviews to get your page started and you'll likely soon find that the reviews start rolling in.
Give your existing customers something to be excited about… offer some sort of freebie, maybe a sticker with your logo or a free piece of merchandise, in exchange for a positive yelp review. You could even facilitate a contest or prize to a randomly selected customer that leaves a yelp review. Any type of social media post that gets customers excited will create more buzz for your business! Do what you can to involve your established customer base and use it as a catalyst to grow your brand name locally.
Use SEO
In addition to tagging your location with your posts, you can also boost your search visibility by incorporating the relevant cities into your posts. Try to slip a city name into the updates you add to various platforms on at least an occasional basis. If you have a small number of local storefronts and want to rank well for those areas, consider setting up separate social media and Yelp profiles for each location, incorporating the same geolocation tagging with each page.
Some other ways to up your SEO are joining local social media groups and using hashtags specific to the location you are in. Engaging with your community through social media groups can build a following with locals and provide exposure for your brand. Hashtags have a similar effect in that they build a connection with your business and potential customers in your area. Using location-related hashtags groups your posts with other accounts in the area and continuously builds the connection between business and place.
Consistently Monitor
Your analytics shouldn't stop once you've deployed your location-based social media strategy. You should put solutions in place to make sure your location-based efforts are succeeding, then adjust your strategy accordingly. If you're an online retailer seeking a national customer base, you can use analytics to determine areas of the country that aren't currently interacting with your social media sites and find ways to reach out to them. Analytics will then let you watch whether those new efforts are working. Social media is an ever-changing tool that has the potential to be a superpower for any business. Always tweak and play with your strategy to ensure your social media efforts are always working for your business as best they can.
Location matters, even for online retailers. To learn more about your customers' locations and find ways to reach out to new ones, put the right tools and strategies in place. Over time, you can tweak those strategies and come up with an online presence that will help your company grow.