As any content marketer knows, creating high-quality, engaging content is actually only one part of the puzzle. To achieve success with content marketing, you also need to master content promotion. Remember – if nobody sees your content, it doesn't matter how good it is.
Marketers today have a large surplus of approaches and tools for content promotion which systematize the task of content promotion, making it quicker, easier, and more efficient to reach a wider audience. If you're looking to beef up your content promotion efforts this year, take a look into some of these top-rated tools. From social media scheduling to content distribution and automation, they provide everything you need for a successful promotion strategy.
1. Buffer
Buffer offers a suite of tools to help you get the most out of your social media channels. You can schedule and post your content to different social media networks automatically, manage all your social media accounts from one place, and use the built-in analytics software to measure the success of your campaigns.
I can't believe I ever tried to run social media without Buffer. My favorite things about Buffer are that I can add all my social media profiles to the account, and when I add something to share, I can select which accounts to share it too. So instead of having to share it 10 different times, I can upload it, and have it shared on 10 places at once.
It obviously gets so much better than that though. I can program the times that it shares the content for each channel so that I can have it share things on Twitter 7 times a day when my audience is more active, and only twice a day on Facebook when I know my audience is more responsive there.
The last thing I love about Buffer is that it tells me which of my posts did the best and I can automatically add them back into the queue to be shared again – saving me a ton of time. I haven't upgraded to get the full analytics yet, but when it makes sense for me financially – I will do it in a heartbeat.
Price: from $15 a month
2. Hootsuite
Hootsuite provides similar scheduling, management, and reporting tools to Buffer, but it's a much more advanced tool overall and offers additional functionality.
With Hootsuite, you can also curate and manage content easily, monitor and respond to mentions across several social media platforms, manage all your team accounts with custom permission levels, and more.
Price: free for one user with up to 3 social profiles. Professional plans from $19 a month.
3. MeetEdgar
MeetEdgar is another social media scheduling tool with a twist – it actually writes your status updates for you, taking quotes from your content.
Other features include category-based scheduling, continuous posting from your content library, A/B testing, and analytics.
Price: from $49 a month
4. LinkedIn Pulse
LinkedIn Pulse is LinkedIn's own personalized newsfeed for its users. Members can self-publish their own content and share it with their audience. Each user only sees the content that's of interest to them.
LinkedIn is a particularly effective marketing tool for B2B companies and thought leaders to build professional relationships and reach a wider audience. Over 130,000 articles are published on the platform each week.
You can also access a detailed analytics platform that shows exactly who read, shared, and commented on each of your posts.
5. Viral Content Bee
Viral Content Bee is a free tool that helps you to get social media shares from influencers on Twitter, LinkedIn, Tumblr, and Pinterest.
The idea is that the relationship is a mutually beneficial one for both content producer and influencer. The influencer gets high-quality content to share with their audience and the content marketers get increased exposure and engagement. You should also like, comment, and follow those who promote your content to boost their engagement as well as increasing your brand visibility.
6. Medium
Medium allows content creators to re-post their best articles on a platform that has over 60 million users each month.
Medium curates a selection of the best content across several different categories for its homepage and also sends out a daily digest to users.
This platform has become extremely popular with its users as it focuses on high-quality content and its algorithms can't be manipulated with likes and shares. The content that is read the most performs the best and reaches the widest audience.
Price: free
7. Taboola
Taboola is a content recommendation platform that puts your content and videos at the end of blog posts and news articles of premium publishers. With this tool, your content can reach a huge audience.
This premium service comes with a suite of tools to help you drive conversions, segment your audience, retarget users, and optimize your content ads to improve ROI.
Price: Taboola works on a CPC pricing model
8. BuzzSumo
Buzzsumo is a tool that helps marketers to find the most widely shared content across the web and who is sharing it.
This can help you to promote your content in two main ways:
You can identify characteristics of viral content in your industry and create similar content, with the aim of it attracting shares naturally.
You can identify influencers who share content about similar topics, filter by reach, authority, and engagement, and build outreach lists to connect with them.
I use BuzzSumo for three things primarily. The first thing I love to use is the Top Content tab. I can put in a competitor blog's URL and quickly figure out what the best content is for that blog that my ideal audience is sharing. Then I can write an even better article.
The second thing I love about BuzzSumo is the ability to quickly find who the Top Influencers are for a certain subject. I use that to create a list of people that I want to mention on blog articles or just to know who I want to try to connect with. I'll promote some of their content and try to get on their radar – then ask them to promote something for me. This usually works really well if you take the approach of being a genuine human being.
The third thing I love about BuzzSumo is the ability to keep track of when each new article goes live and how many shares it has. It seems a little more real time to me than using Google Alerts, and it gives me a lot more information about who shared it and where it was shared.
9. GaggleAmp
GaggleAmp has a different perspective on amplification as it focuses more on employee advocacy. Your employees can be your greatest amplifiers, and this platform makes it easy to scale their efforts.
It works by enabling admins to provide users (employees) with content to share on their network. They can then share it, expanding your reach. It's much more impactful than if employees simply "like" your posts.
Tailwind is a content scheduling tool designed specifically for use with Pinterest and Instagram. This tool can save you a lot of time with features like bulk image upload, multi-board pinning, scheduling and automatic posting, and analytics.
Tailwind's SmartLoop feature automatically finds your best-performing pins and re-pins them on an optimized schedule to the right boards. You can also take advantage of Tailwind "Tribes" – groups of trusted users who all share each other's content.
10. Outbrain
Outbrain is a content syndication network that promotes your content across a wide network of publishers including CNN, Wired, Time, and People. The platform makes 275 billion content recommendation to web users each month.
There's a range of targeting options to help you to reach your ideal audience, and an analytics dashboard allows you to track and optimize campaigns.
Outbrain and Taboola were supposed to merge into a content promotion behemoth, but the deal fell through. They're now back to try and outdo each other in the native advertising space.
Price: CPC pricing model with a minimum spend of $10 per day.
11. Mailshake.com
If you write a really solid article, chances are you linked to a few other really great articles written by really great people. You ideally even mention them by name. If you've ever written a great tool roundup piece (like this one), then you have a whole host of people and companies that would probably love to share your content – they just don't know you mentioned them.
Right now you probably have some spreadsheet with their email address, Twitter handle, or a link to their contact form – then you go to each one of them and let them know you just mentioned them. This is great (if you aren't doing this – you need to start), but if you are doing this, then you know how tedious this can be, how long it takes, and how infrequently you get the response you want.
Mailshake.com lets you paste the URL to the article you wrote and seconds later it gives you a list of all the email addresses, Twitter handles, and contact forms for you (which saves you hours of having to manually find them). Then it makes that even better by providing you with proven templates that you can load, customize and send out to everyone at once. I've used it a few times and it's taken promotion from a few hours to a few minutes, all while increasing my response rate.
12. Zapier
Zapier is great. You can connect several programs together to automate what they do together. I use both Zapier and IFTTT for different things based on which one does it better for the task I'm looking to accomplish.
One of my favorite things I have set up on Zapier is a way that allows me to automatically add things to my buffer when they are tagged correctly in a Slack chat group. For instance, if someone adds a link to a slack chat I'm in, and they add #share at the end of it, Zapier will grab that, load it into my Buffer as the next scheduled update to share. This helps me promote my friends even if I'm busy working on a project that day and can't check Slack until later on.
13. IFTTT
There's a lot of crossover with Zapier and IFTTT, so you will have to just browse around and see what elements you like from each service. I have a TON of IFTTT statements set up , but my favorite one is when I post a picture on Instagram, instead of having Instagram tweet it out as a link, IFTTT grabs the image and tweets it out as an image – which is much more appealing and increases engagement big time.
14. Zemanta
No matter how big or small your blog is, you want more traffic and you want that traffic to be qualified. Zemanta is one of my favorite paid tools for content promotion. You can add your articles to their feed and they promote them on contextually relevant sites, blogs, other articles, and help find places where your customers are hiding. They have a really big network and can work with you to find the right nooks and crannies that fit your audience and budget needs.
15. Hello Bar
I love Hello Bar for two reasons. My favorite reason is that it's so incredibly easy to set up. It took me less than five minutes to set it up on my WordPress site and have it connected to my MailChimp account. The second reason I love it is because it's still one of the most effective ways to collect email addresses without being a pop-up. If you do content promotion, then you know how valuable that email list is – and you know that you need to have good tools to capitalize on every visit to your blog.
16. CoSchedule
The thing that impresses me most about CoSchedule is the repeated sharing of blog posts. Don't waste all your energy on promoting content once, and then moving on to the next blog post – continue to promote it for the life of that article. Promote it more frequently on Twitter, a channel that doesn't care too much if you promote the same piece of content 3 times in one day, and promote it less frequently on Facebook – where people will hate you if you post the same thing repeatedly. Instead of having to figure this out all on your own, use CoSchedule to help you figure out the ideal posting times for each channel – and then automating it to simply be done for you.
17. Broca
Broca uses deep learning AI to automate the process of content creation. It can dramatically reduce time spent on content creation so that you can scale your amplification efforts. It has a simple, intuitive interface, so you don't have to spend hours on training.
This tool is a real game changer for busy content teams seeking to simplify workflow and get out of the execution weeds. You add descriptions, keywords, and other key facts. Then select the channels to promote.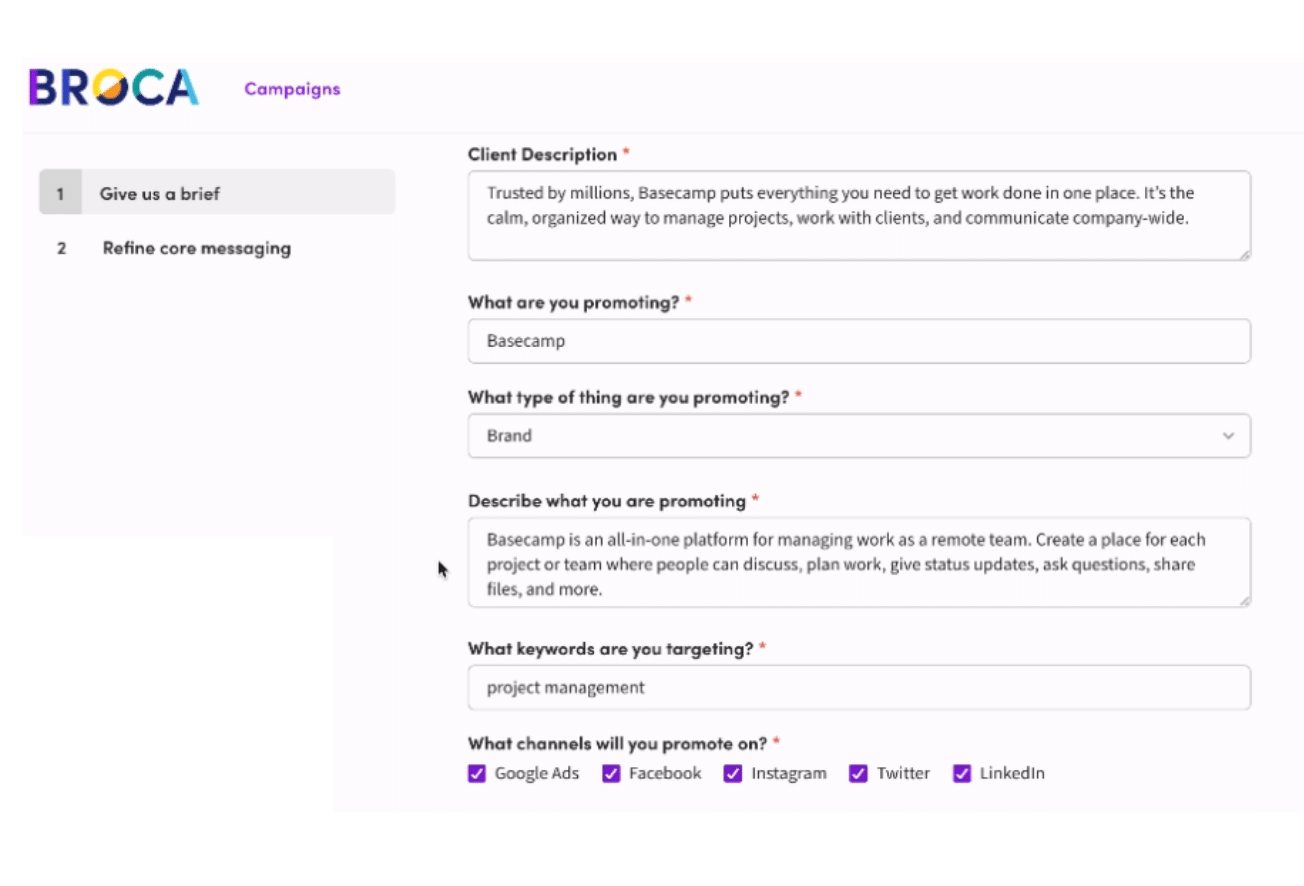 Step two is to refine the core messaging. The AI develops content, and you can refine core messaging. Step three is to choose your channels while the tool generates content for your campaigns, from Google Ads to social media.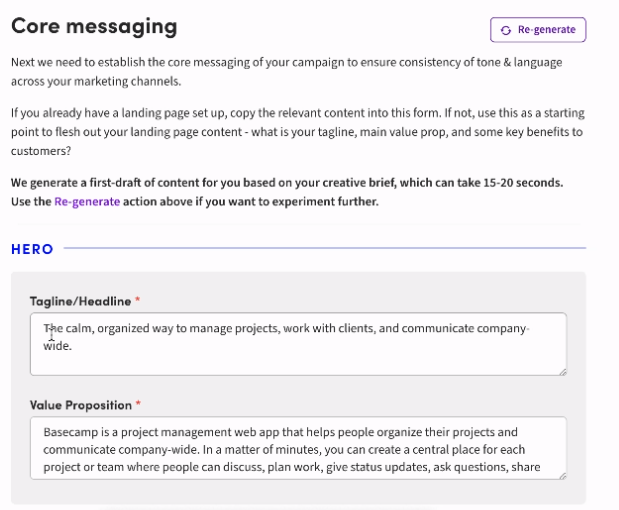 Shoot for Engaged Visitors
Here at Marketing Insider Group, we use a combination of the tools above along with AI-based optimization that allows us to focus our clients content promotion budgets on engaged visitors. Visitors to your content who don't bounce, who stay on the page longer, and who subscribe – those are really the goal!
Depending on your budget, resources, and preferred workflow, you can use one or more of these tools to boost your content promotion efforts and reach a wider audience that's still highly targeted.
However, it's also important to remember that there's no point promoting content that's anything less than the best quality. Take time to understand your audience, thoroughly research topics that will resonate with that audience and put sufficient time and effort into simply creating great content.
Creating content is a one-off task (although it's worth updating old content when necessary) but you can keep creating a single piece of content over and over again, making sure it keeps working for you as a valuable marketing asset.