Do you have a content strategy? If you're reading this, you probably have a working interest in content marketing, and so your answer is probably "yes": you have some kind of method for producing and publicizing content. But do you have a documented content strategy?
If you answered "no" to the second question, you're not alone. According to research by the Content Marketing Institute, over 60% of B2B marketers don't have a documented content strategy.
Quick Takeaways:
Documenting your content strategy is essential for content marketing success.
You need a documented content strategy no matter how small your team is.
Assign one person the job of documenting content strategy and stop producing content until you have it down on paper.
You may think it's enough that you and your team have a clear idea of where you're going with your content strategy, and you don't need to put it down on paper. However, you might want to change your opinion on this. Having a documented content marketing strategy is a key indicator of success, with 65% of the most successful marketers having a documented strategy, compared to only 14% of the least successful.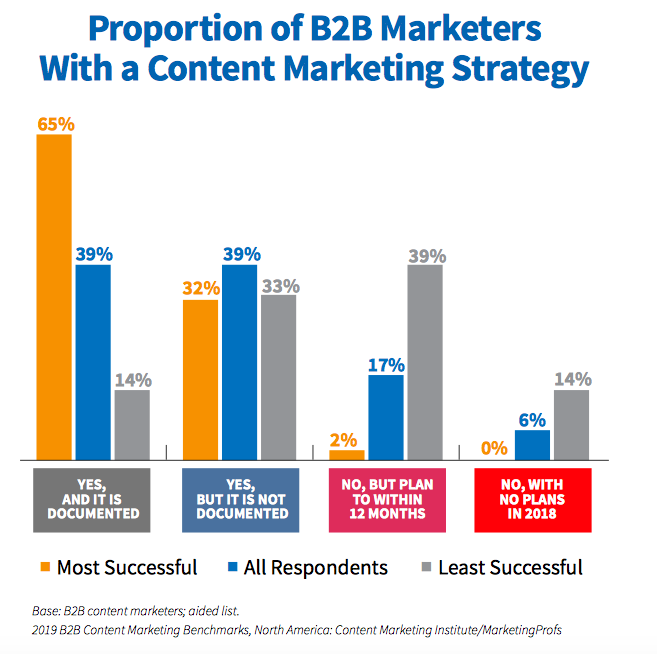 But why does getting your content strategy down on paper have such a dramatic impact on your marketing performance? There are a few factors at play here.
The Benefits of a Documented Content Strategy
The respondents of the above survey cited several benefits to documenting their content strategy: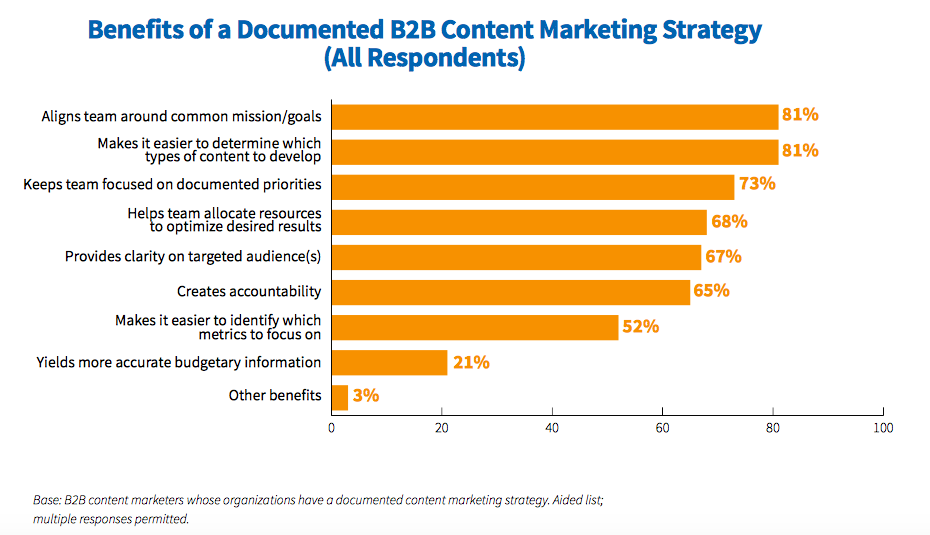 In general, marketers with a documented content strategy:
Are more confident in the effectiveness of content marketing
Feel less challenged by certain aspects of content marketing
Consider themselves more effective in their use of content marketing tactics
Can justify spending a higher percentage of their overall marketing budget on content marketing.
It's well known that writing down your goals can mean the difference between success and failure. Thinking up goals and neglecting to put them down on paper is simply not enough. Those who do write them down are between 1.2x and 1.4x more likely to succeed.
It's thought that the process of writing (or typing) your goals helps to cement them in your brain. This ensures you won't forget them and helps your mind focus on what's important.
Essentially, documenting your content strategy is key to your eventual success in content marketing. Your strategy forms a roadmap that can guide you toward a successful outcome. Would you try to memorize a map showing a complicated route to your needed destination? Or would you just take the map with you so you could refer to it on your journey and avoid getting lost?
Why Doesn't Everyone Document Their Content Strategy?
So, if having a documented content strategy is so important, why isn't everyone doing it? Again, the Content Marketing Institute has carried out research into why so few marketers are documenting their strategy. By reviewing these common reasons, you might see some familiarity with your own reasons, which can motivate you to overcome these roadblocks.
1. Neglecting to Make Strategy a Priority
It's understandable that fitting in the time to create yet another document when you're busy with all the other aspects of successful marketing can seem like a waste of time.
If this sounds like you, you probably see strategy documentation as a sort of "box ticking" exercise that's intended to fit in with company protocols, rather than actually being a useful tool.
The fact is that it doesn't have to take long to put together an effective content strategy, and the results it can have on your success are well worth the small amount of time you put in initially.
2. Lack of Ownership
Whose job is it to create the content strategy? If you can't answer this question, you're looking at the problem.
When there's a large team working on marketing activities, it's likely you don't have a named person in charge of documenting strategy. This is particularly true for more "traditional" marketing teams, who may not be fully sold on the value of having a strategic approach to content.
The solution to this is simple: give someone the job, or do it yourself. No matter what level you're working at, if you recognize the value of documenting your strategy, you can put something together and send it to your colleagues and manager.
3. Having Too Many Stakeholders
Likewise, if there are too many people who want to have input into your content strategy, this can prove to be a challenge.
The more people who are involved, the more difficult it is to get them all in agreement.
This problem is easily solved by appointing one person to be in charge of content strategy, and leaving it up to the other stakeholders to participate. If they can't provide input in the deadlines you set, you'll have to make executive decisions on their behalf.
But remember that your strategy doesn't have to be set in stone – you can adapt and update it as you go along. Just make sure you have a single document that everyone is working from, and don't let indecision or lack of input become barriers.
4. Not Knowing Where to Start
This is another common problem. If you don't really know how to write a content strategy, it's easy to just brush the task under the carpet and get on with other stuff you know more about.
However, that's no excuse. There are plenty of guides out there on creating a content strategy, and all you have to do is sit down and get it done.
We all know how easy it is to procrastinate and put off tasks that we perceive as being difficult. The fact is that developing a content strategy really isn't that difficult, and it's best just to plan it into your schedule and not to allow yourself to do any more content production until you've nailed down your strategy.
5. Thinking a Documented Content Strategy Isn't Necessary
Hopefully, we've already persuaded you that it is if you've gotten this far, but this is a common opinion, particularly in small organizations or those with small marketing teams.
Don't make the mistake of thinking this vital piece of the content marketing puzzle isn't necessary just because your team is small. Even if you're solely responsible for content marketing, it's still vital to document your strategy if you want to be successful.
Need Help With Your Content Strategy?
If you are ready to get more traffic to your site with quality content that's consistently published, check out our Content Builder Service. Set up a quick consultation, and I'll send you a free PDF version of my books. Get started today and generate more traffic and leads for your business.